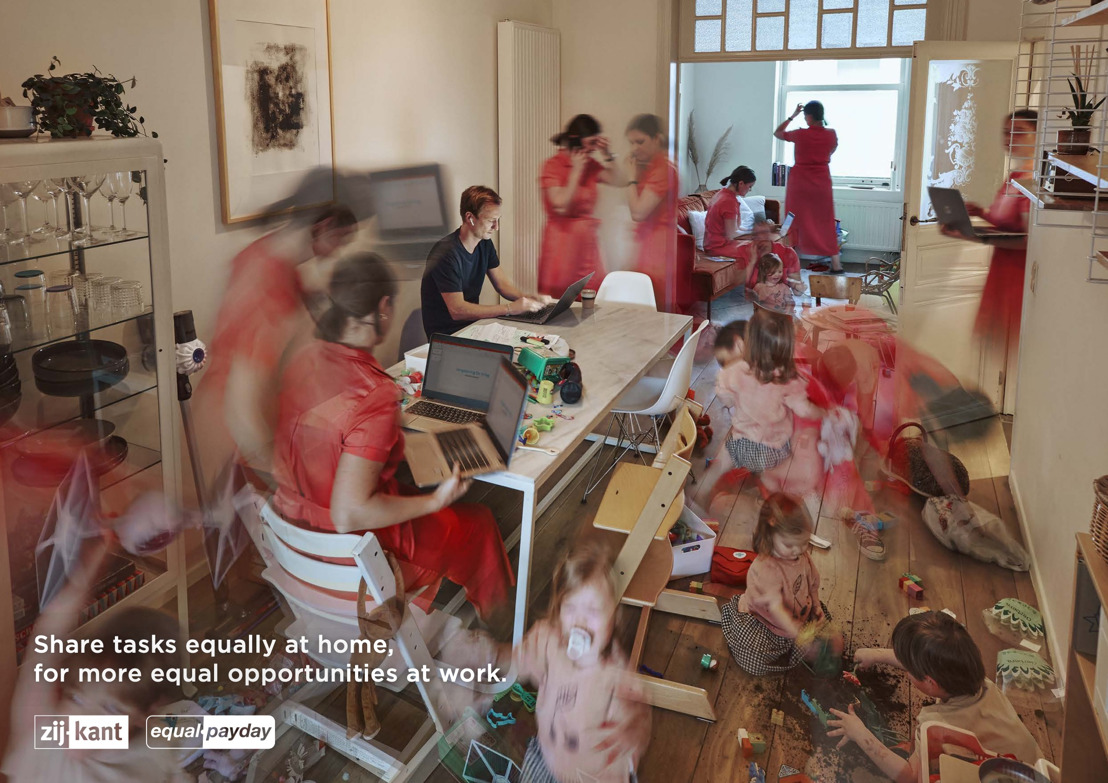 Just because dad works from home doesn't mean he does more at home.
Tuesday, March 16, 2021 — Men still earn more than women, and one of the main reasons for this is our division of roles at home: 8 out of 10 Belgian women tackle the daily tasks of childcare, cooking and cleaning. In addition to their paid jobs, women around the world do about 75% of the unpaid work. The COVID-19 pandemic has only aggravated this unequal distribution of tasks. To address this, mortierbrigade and Zij-Kant have devised a new campaign to mark Equal Pay Day, which takes place on March 25 this year.
In these strange times of quarantine and telecommuting, everyone's had a lot more to do. And unfortunately, stereotypical gender roles have only become more stereotypical. Given that children often haven't been able to go to nursery, school or their grandparents, care has primarily become the responsibility of their parents - read 'moms'. The statistics on pandemic parental leave also speak for themselves: this leave has almost exclusively been taken by women (71%). So, our division of tasks was deeply flawed to start with, but the pandemic has catapulted women out of the frying pan into the fire. With major effects on their careers and salaries as a result.
For Equal Pay Day, we wanted to perfectly capture this frustration and get both men and women thinking. That's why mortierbrigade has come up with this all-important campaign based on recognizable, realistic family situations.
Real families have been used for the campaign image. Top photographer Jef Boes has captured fathers concentrating on their computers, while the mother and children situation descends into chaos.
For the campaign spot, Belgian band Red Zebra has granted exceptional permission to use punk classic 'I can't live in a living room'. In the spot, we see children shamelessly gatecrashing their parents' video calls. Cute if it happens once, but not ideal when it becomes an hourly event.
An inequality we can avoid by equally sharing household tasks.