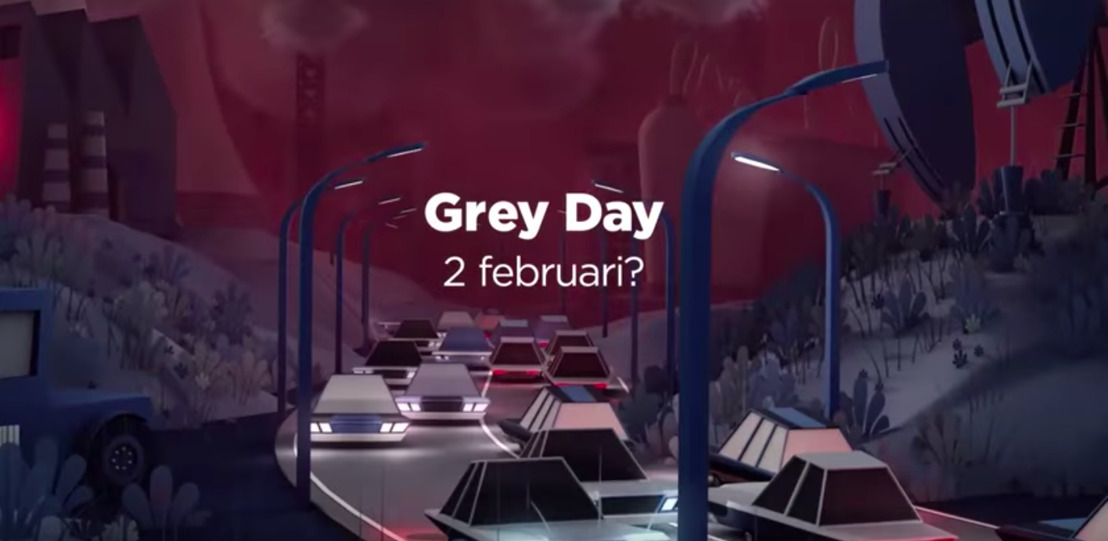 mortierbrigade and Canvas launch Grey Day: the day on which our green energy runs out.
Friday, April 13, 2018 — On behalf of Canvas, mortierbrigade has devised the 'Grey Day' concept for the new Canvas series called Watt, a programme about energy and climate change. Green energy production in Belgium is based on a 32-day consumption period. This means that, right now, we use far too little renewable energy and way too much 'grey energy', i.e. energy from fossil fuels (coal, oil and gas) and nuclear energy. To emphasise this, we've introduced the term 'Grey Day'. This is the day of the year on which our own green energy runs out and we switch to grey energy.
Belgium produce the equivalent of 32 days' worth of green energy. In other words, the Belgian annual sustainable energy sources dried up on 1 February, making 2 February 'Grey Day'. The campaign is aimed at increasing awareness, but its long-term objective is to make Grey Day an international initiative that fall on a later date from one year to the next in each country. Because, if we were to produce more sustainable energy, Grey Day might come around a few days later in 2019, and even later in 2020.
Joost Berends, Partner at mortierbrigade:
"We often think that we know a lot about our energy problem. But the realisation that our green energy is used up after a single month forces us to face the facts and demonstrates the complexity and urgency of the crisis. With Grey Day, we wanted to create an initiative that can impact future generations. It must mark the start of collective awareness about climate change. All of us must realise that time is ticking."
Grey day in numbers: no more than 8.7% of all the energy currently consumed in Belgium is our own green energy, predominantly generated using biomass, solar and wind. This means that the remaining 91.3% is grey energy that comes from uranium in nuclear reactors or fossil fuels such as oil and gas. 8.7% expressed in terms of time boils down to 32 days of the year. So, Belgian green energy for this year ran out on 1 February. 2 February marked 2018's Grey Day. From this day right to the end of the year, Belgians will only be consuming grey energy.
The campaign is being launched with a video in which well-known Belgian important politicians. And famous Belgian celebrities also try to predict the date for Grey Day. Almost all of them predict much later dates and are astonished when the actual day is revealed, sending an immediate and clear signal that it is high time that people are made aware of our energy crisis. The campaign is supported by members of the Belgian Parliament, major ministers and Government's Vice Prime Minister & Minister of Energy Bart Tommelein.
Anne-Cecile Collignon PR Manager, mortierbrigade