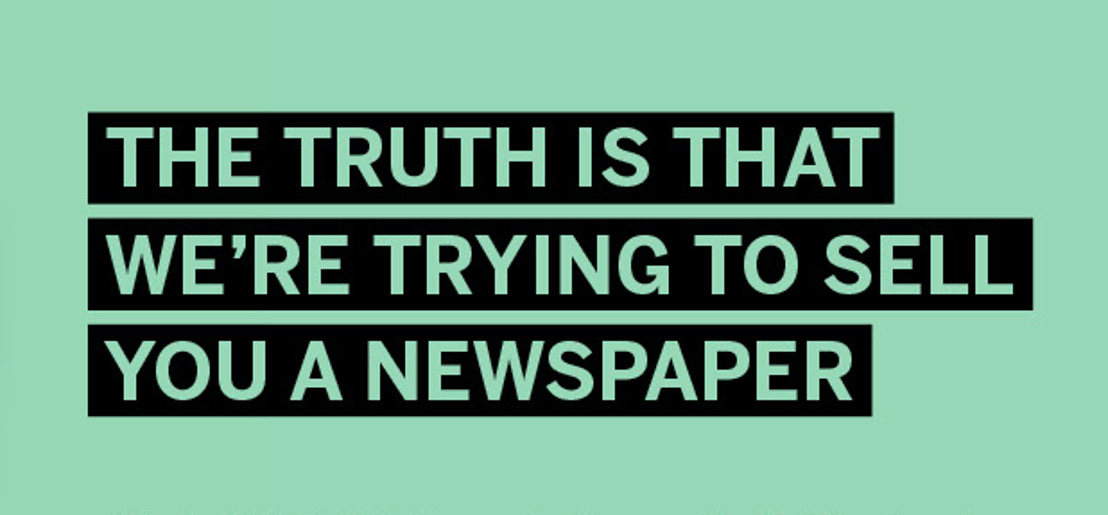 mortierbrigade tells the honest truth for the Standaard
Sunday, May 14, 2017 — Despite searching for reliable information every day, we're unfortunately faced with unreliable sources. The Standaard aims to distinguish itself as a quality newspaper that offers its readers reliable, solid and well-analysed news. To achieve this, mortierbrigade created a new campaign for the Standaard to encourage readers to invest in the newspaper in a smart way. In exchange, the Standaard commits to reporting as truthfully as possible.
"The truth is that this is an advertisement for the Standaard. That the headline is in large to attract your attention. It's also true that the more subscriptions we sell, the better we can tell you about the truth. It means our journalists can investigate exactly what is going on. Filter opinions and unearth the facts. Because the truth is that you already get served plenty of untruths nowadays. And even more half truths twisted to fit someone's agenda. The truth is that you rely on us to expose the truth as best we can, and that we rely on you to invest your time and money in us."
Above, you can find out what will be appearing in the Standaard on Wednesday. This extract forms part of the Standaard's new campaign. A campaign that demonstrates that the Standaard is committed to finding the truth, regardless of time or place. Something that, of course, starts with its own advertising.
Joost Berends, Creative Director at mortierbrigade, says,
"The Standaard is a top-quality publication that constantly strives towards providing solid, accurate and fact-checked news. With this campaign, we show our hand and, in a creative way, demonstrate that the truth is very important when it comes to gathering information. That's why this theme often recurs in the campaign. To be able to distribute accurate information, it's important that the readers invest in their newspaper. Hence the title, "The truth is that you want to buy a newspaper."
The campaign start this Wednesday in TV, radio, print and online.
Anne-Cecile Collignon PR Manager, mortierbrigade