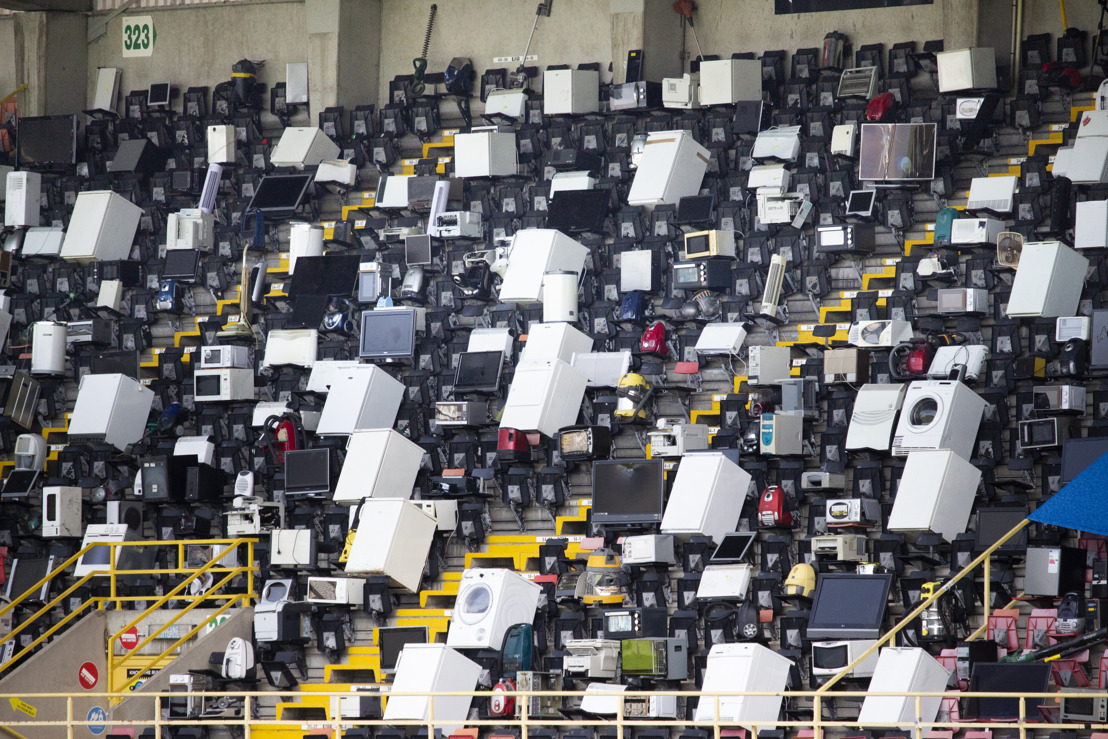 Recupel and mortierbrigade fill Jan Breydel Stadium stands with broken electronic devices
9 million electronic devices in Belgian households
Monday, April 26, 2021 — You read that correctly: a whopping 9 million broken electronic devices are simply gathering dust in drawers and attics in homes across Belgium. To raise awareness of the problem, mortierbrigade and Recupel organised a rather unexpected publicity stunt.
We all know why Belgium's football stadiums have stood empty for more than half a year now. This Sunday, however, a special atmosphere reigned over the stands of the Jan Breydel Stadium. Hundreds of broken electronic devices occupied the seats supporters would normally have sat in during the game between Club Brugge and Royal Excel Mouscron. The goal? To raise awareness of the importance of recycling. Research by Recupel has shown that an estimated 9 million broken electronic devices are simply gathering dust in households across Belgium. Enough to fill 300 football stadiums.
Eric Dewaet, CEO of Recupel, explains why we need to reduce that amount:
"By handing in your broken devices at a Recupel collection point, you're not just cleaning out your closet. You're also contributing to a greener environment by giving your device a second life. Because recycling allows resources to be reused, including for the production of new devices."
The stunt would never have been possible without the help of Club Brugge.
"Of course, we're sad that we're still forced to play without any supporters in the Jan Breydel Stadium. But the empty stands did give us the opportunity to help Recupel organise this campaign. Over the past decades, Club Brugge has grown to become a sustainable top-division club. Together with Recupel, this campaign allows us to get the ball rolling and encourage all our fans to hand in their broken gadgets en masse."
The stunt received a great deal of media attention and was featured on the news on RTL-TVI and VRT. Here's hoping Belgians will become champion recyclers!