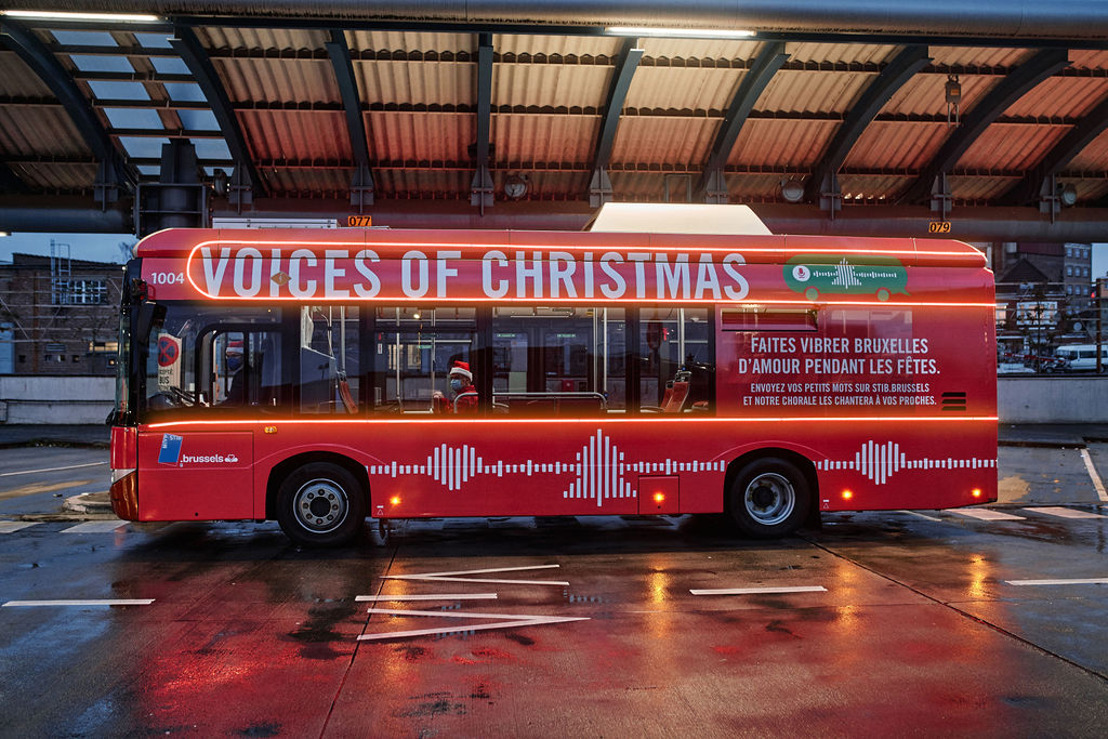 The STIB/MIVB & mortierbrigade to distribute Christmas wishes with a choir
"Voices of Christmas": the bus that travels around Brussels delivering good wishes in song.
After "Voices of Brussels" at the start of the lockdown, here are the "Voices of Christmas". The STIB/MIVB messenger bus is coming back into service for the end of year celebrations. The vehicle is equipped with speakers and will meander the streets of Brussels from December 15th to 23rd, broadcasting Christmas messages, sung by a choir, to loved ones living in Brussels. Bringing warmth to the hearts of all the people of Brussels, it is an original way to wish your loved ones a Merry Christmas.
The holiday season will be quite different this year. Many people will not be spending Christmas and New Year with their families. That is why the STIB and mortierbrigade decided to let Belgians deliver their good wishes to their loved ones in Brussels in the form of Christmas carols.
The messages were sung by the "Petits Chanteurs du Collège Saint-Pierre", recorded and then played outside the homes of the people to whom they are addressed. It is an original way to connect those who cannot see each other in person during the Christmas period that is traditionally rich in reunions with family and friends.
Anybody who wanted to send wishes using the "Voices of Christmas" bus was invited to send a written message through the STIB/MIVB website and social media. The "Voices of Christmas" bus took care of directly delivering them to the home of the loved ones in question.
Voices of Brussels
mortierbrigade and STIB/MIVB already organised a similar event to "Voices of Christmas" last April. With the lockdown in full progress, the "Voices of Brussels" bus transported personalised messages intended for loved ones living in the Brussels-Capital Region. The initiative enjoyed an incredible success and was hailed as an example of solidarity even beyond our borders.

Anne-Cécile Collignon PR Manager